Begin your
travelMAINE
adventure today!
THE REGIONS OF MAINE
Maine has eight distinct regions, each with it's own character.
BEACHES
The Maine border is just an hour by car from Boston so pack your sunscreen and head for the beaches of Southern Maine. You can begin at York Beach, wind your way up Route 1 to Wells, Ogunquit, Gooches, Old Orchard, Higgins, Willard, East End and Popham Beaches and on to Sand Beach at Acadia National Park. Although perhaps more famous for its breathtaking rocky coastline, Maine has beaches—and lots of them!—with some of the softest white sand on the East Coast. Southern Maine beaches are popular among surfers, with waves ranging from the gentle to the dramatic. Several are protected by trained lifeguards during the summer, while others feature tidal pools where you can stroll barefoot in search of seashells and sand dollars.
Learn more about Maine's Southern-most region
MID-COAST
To the Maine visitor who prefers boating to beach bumming, there is no better region to explore than the Midcoast. The shoreline along this area—stretching south to north from Brunswick and Harpswell to Belfast and Bucksport—is dramatic, and reflective of Maine's rich maritime history. Unlike the sandy seashores of Southern Maine, this region features a rougher, rockier coastline more in keeping with Hollywood's picture of the Pine Tree State.
Start exploring Maine's Mid-Coast Region
GREATER PORTLAND & CASCO BAY
Maine's largest city is easily reached from Portland International Jetport a few minutes from downtown, and by road from I-95, 1-295, U.S. Route 1, or Route 302 from the west. Portland is the terminal for Amtrak trains from Boston, and there is also a non-stop bus service from that city.
Explore Greater Portland & Casco Bay
DOWNEAST & ACADIA REGION
Some say there's something exceptional about the area around Bangor and Mount Desert Island. For this particular location has been suggested as the starting place for, Downeast? Maine. It then stretches on along the coast toward the Canadian border. There are others who consider the northern sections of Maine as Downeast, while some give this curious designation to the entire state.
LAKES & MOUNTAINS
Maine visitors who prefer fresh water to saltwater should grab their fishing poles or their snow skis and head for the Western Lakes and Mountains. This is where huge inland bodies of water—Sebago Lake alone covers 46 square miles—and majestic mountains meet to create a visual feast for the eyes. The scenic variety in Western Maine is only outdone by the diversity of year-round family-oriented activities to be enjoyed.
Learn more about Maine's Lakes & Mountains Region
HIGHLANDS
Drive north on Maine's Route 95 to just past Old Town, then exit onto Route 11 toward Milo. Keep driving (and driving) until you've left all your cares and worries behind, and entered the wild and unspoiled heart of Maine. They call this region the Maine Highlands, perhaps because almost at its center is Mt. Katahdin. At more 5,267 feet, Katahdin is the state's highest peak and the northern terminus of the Appalachian Trail.
Find out more about Maine's Higlands
KENNEBEC VALLEY
Perhaps to show just how big your welcome will be if you visit the Kennebec and Moose River Valleys region of Maine, a 62-foot carved wooden statue of a Native American stands at the gateway to one town. On the plaque at his foot is this message: "This sculpture is dedicated to the Maine Indians, the first peoples to use these lands in peaceful ways." 
Explore more in Kennebec Valley
AROOSTOOK
Montana isn't the only state that has "big sky country." Aroostook County, at the northern tip of Maine, is known for its vast, open spaces and long views that will take your breath away. A virtual recreational paradise, "The County" , as it's called by Mainers, is the destination for travelers looking for year-round fun in a great place to get away from it all.
Learn more about  "The County".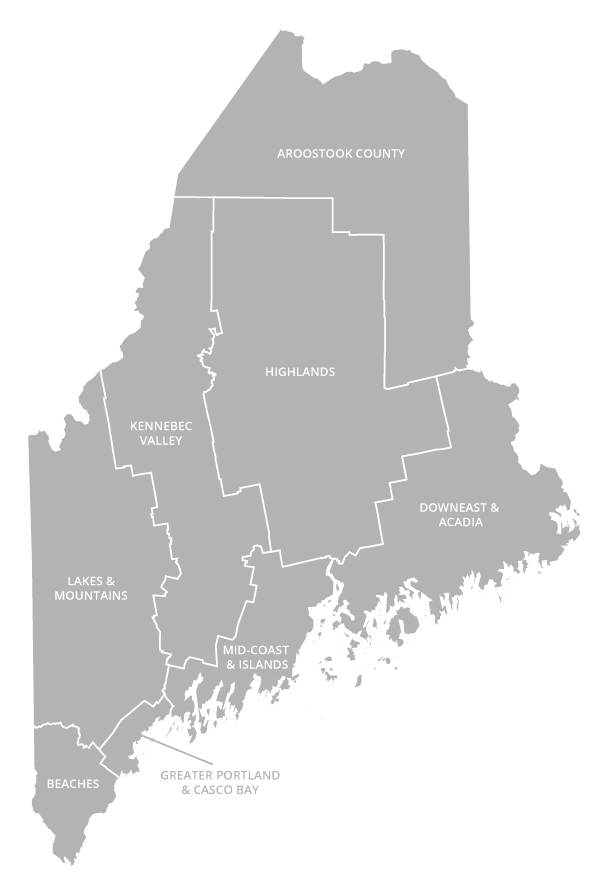 Founded in 1998, the Maine International Film Festival (MIFF) is a project of the Maine Film Center. Most years, the 10 days of the festival showcase nearly 100 films, representing

September 1

-

September 5

A true "Down to Earth" Country Fair!

September 9

-

September 11

We are the biggest Pirate Festival in New England and the Maritimes. A fun filled family weekend filled with events and shows, great food and entertainment, crafts markets and street
Experience all Maine has to offer!