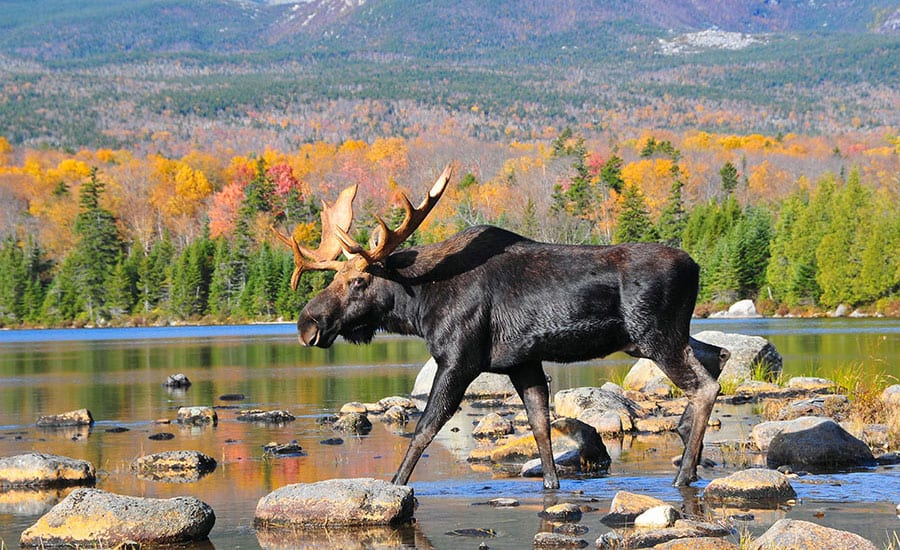 Here you will find the city of Bangor.  Whether you enjoy dining, the arts, the great outdoors, history, architecture, shopping or sports, you're sure to find something to do and love here.
If you want to get away from it all; and really get away, consider a trip to the Maine Highlands. About a five hour drive from Portland, you'll find yourself in the ultimate wilderness where woodlands outnumber houses and distances can be traveled without seeing a soul.
Maine Highlands is the home to four wilderness adventures. At 5,267 feet, there's Mt. Katahdin, the northern finish line to the Appalachian Trail. Spectacular views and challenging trails draw hikers to its summit every year to make a pilgrimage to the highest point in Maine.
Early Spring

March & April
23° | 53°
Wear layers as temperatures vary. Welcome to "Mud Season"!
Late Spring

May & June
45° | 74°
Wear layers as temperatures vary. Things are warming up!
Early Summer

June & July
50° | 75°
Wear layers as temperatures vary.
Late Summer

August & September
51° | 78°
Enjoy!
Early Autumn

October
40° | 57°
Bring a sweater.
Late Autumn

November & Early December
31° | 45°
Bring a sweater, coat & hat. Snow likely.
Early Winter

Late December & January
19° | 30°
Dress for snow!
Late Winter

February & March
15° | 40°
Bring a sweater. Snow is likely.
There's Baxter State Park, with almost 210,000 acres of wilderness, complete with unspoiled lakes, ponds, streams, rivers, and waterfalls. The Park has year round campsites available with areas for lean-tos and tents as well as bunkhouses and cabins. Availability is limited so check ahead for information. www.baxterstateparkauthority.com Snowmobiling and boating round out the other seasons in the park.
You'll love a visit to Moosehead Lake. Set at an elevation of 1,023 feet, this gigantic lake is approximately 40 miles long and 10 miles wide with over 400 miles of shoreline. Its average depth is 55' and it serves as home to 80 islands. The Allagash Wilderness Waterway was established in 1966 to preserve, protect, and enhance the natural beauty, character, and habitat of a unique area. It is a magnificent, 92-mile-long ribbon of lakes, ponds, rivers, and streams winding through the heart of northern Maine's vast commercial forests.
For more than a century "The Allagash" has been praised and enjoyed as a sportsman's paradise. Many famous people, including Henry David Thoreau, have enjoyed its beauty and come away filled with determination to protect it for future generations. Guided excursions are available in the Maine Highlands for whitewater rafting, canoeing or kayaking deep into the wilderness, fresh water fishing, mountain biking, and rock climbing or hunting.
Planning an extended stay in the region? Then you might consider staying at one of the region's many charming and comfortable resorts, lodges, B&Bs, cottages, hotels, motels or campsites. You can find eco-friendly accommodations or a lakeside guesthouse that will have you enjoying every moment of your wilderness adventure.
Need to replenish your supplies "in town?" Visit Lincoln, Greenville or Millinocket to shop or to connect with the local town experience. Area residents have been welcoming visitors for ages and they know how to make you feel at home.
There are no upcoming events.
Recommended Area Businesses
Spacious Lakefront Cabins & Guide Service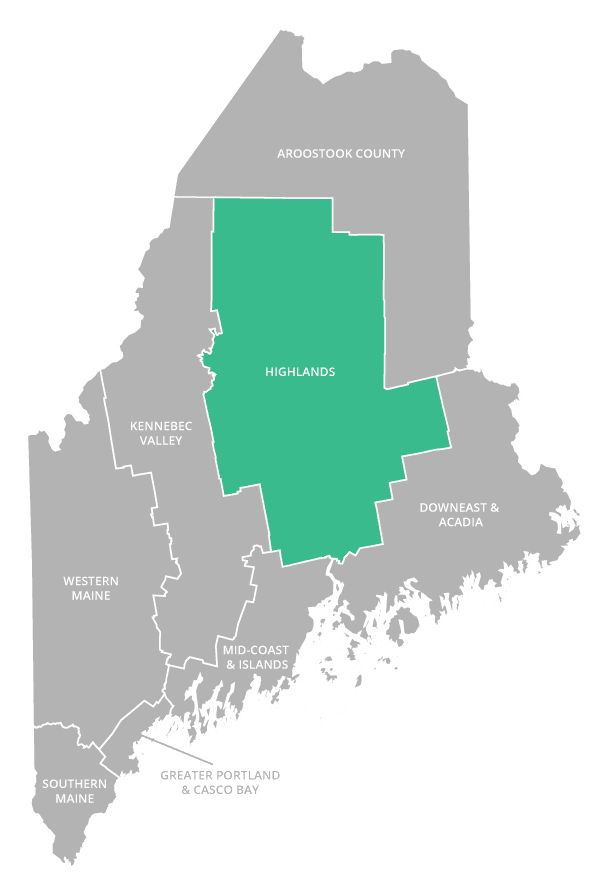 Experience all Maine has to offer!