Some say there's something exceptional about the area around Mount Desert Island. For this particular location has been suggested as the starting place for, Downeast? Maine. It then stretches on along the coast toward the Canadian border. There are others who consider the northern sections of Maine as Downeast, while some give this curious designation to the entire state.
Early Spring

March & April
23° | 53°
Wear layers as temperatures vary. Welcome to "Mud Season"!
Late Spring

May & June
45° | 74°
Wear layers as temperatures vary. Things are warming up!
Early Summer

June & July
50° | 75°
Wear layers as temperatures vary.
Late Summer

August & September
51° | 78°
Enjoy!
Early Autumn

October
40° | 57°
Bring a sweater.
Late Autumn

November & Early December
31° | 45°
Bring a sweater, coat & hat. Snow likely.
Early Winter

Late December & January
19° | 30°
Dress for snow!
Late Winter

February & March
15° | 40°
Bring a sweater. Snow is likely.
Depending on who's talking, Downeast could be anyplace east of the present spot. It's clear that the expression Downeast can have a variety of locations. After years of nurturing perhaps it's not so much a place as a state of mind.
The term first caught on when vacationers coming from Boston had to wait for an easterly breeze before they could sail. So they would be heading downwind toward the east. Hence: Downeast.
Follow the Penobscot River south and you'll see the new Penobscot Narrows Bridge and Observatory, a marvel of bridge engineering. One of its support structures has an observations tower with a panoramic view of the surrounding area.
In Prescott there's great fun for kids to explore the hidden passages and tunnels of Fort Knox. Bucksport and Ellsworth provide you with gift and antique shops, restaurants, galleries and a variety of lodging places, along with outdoor and water sports.
Mount Desert Island and Acadia National Park are often linked because of their overlapping geography. More than 4 million vacationers each year have been charmed by the island's mountain, ocean and woodland vistas. Towns on the island that share their popularity with vacationers include Bar Harbor, Southwest Harbor and Tremont among others. Each has a rich history, personality and a host of attractions you'll enjoy.
There are no upcoming events.
Recommended Area Businesses
Fine Arts in Downeast Maine
Shop / Bangor / Acadia / Downeast
Experience the Best Bar Harbor has to Offer
Stay / Bangor / Acadia / Downeast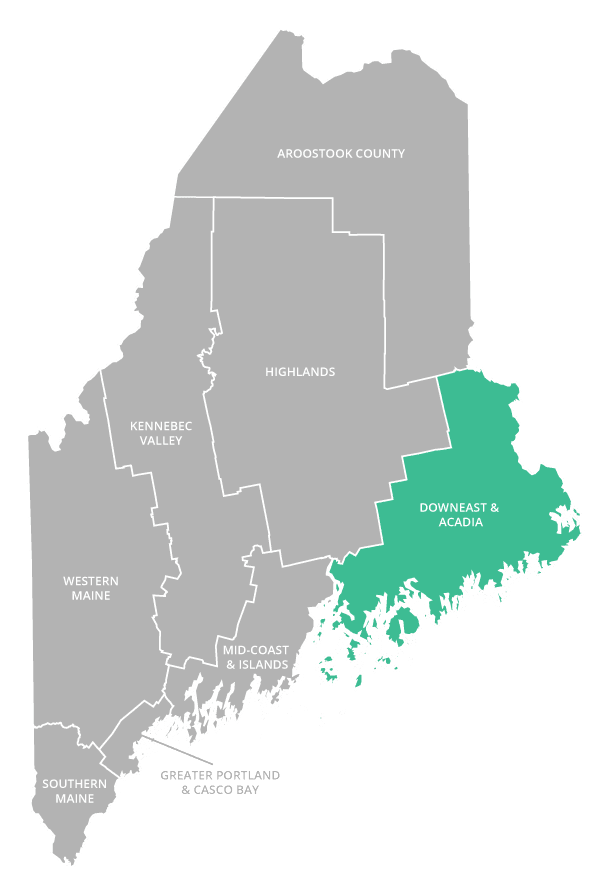 Experience all Maine has to offer!