Pet-Friendly Beaches & Parks
Miss Manners would be pleased—most of Maine's dog parks are peaceful places. So too are its dog-friendly beaches. This is mostly due to the fact that park and beach pet etiquette is well-known, well publicized, usually well posted and encouraged by all throughout the state.
If you are visiting the Pine Tree State, however, are a first-time pet park/beach stroller, or simply missed the memo about how to navigate through public pet spaces with your animal, the following tips might prove useful. The two most important things to remember are that these places are shared properties—and the goal when visiting is to have fun! Both require that you pay attention to your companion at all times, and that you get along with other pets and their owners.
•  According to Maine statute, anyone who uses a dog park does so at their own risk. (This is true for any recreational area in Maine open to the public.)
•  Also according to Maine law, any damage or injury caused by a pet is the responsibility of the owner.
• Disposing of your dog's waste swiftly is a must! (Some parks have disposable bags available, others do not. Always bring your own, just in case.)
• Dogs must be supervised at all times, even when they are off-leash.
• If your dog becomes aggressive or hyper-active or in some other way disruptive, it's your responsibility to remove him or her from the park.
• Dogs must be leashed while entering or exiting the park.
• Most parks require that dogs carry proper identification, license and rabies tags.
• Female dogs in heat are typically prohibited from parks. Although tough to prohibit, "mounting" by dogs should be broken up immediately when it occurs.
• Dogs should be discouraged from digging holes and burying objects.
• Some parks have sources of water for pets. Bring a bottle for your dog to be on the safe side. Better yet, bring water to share.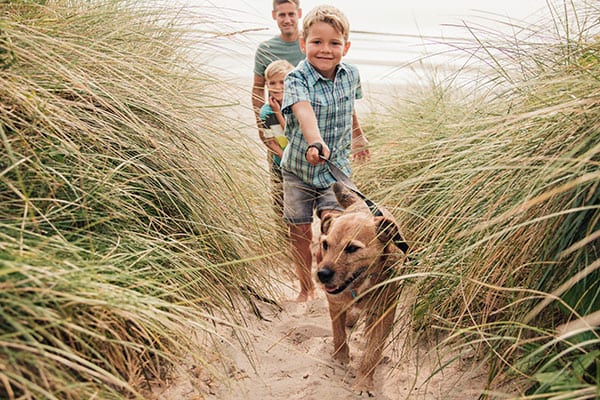 These same guidelines apply to Maine's pet-friendly beaches. What's most important at these sites is to observe regulations regarding when during the day and during the year dogs are allowed off-leash. For example, Pine Point Beach in Scarborough made headlines in 2013 when a dog off-leash killed the chick of an endangered avian species (a piping plover). This resulted in a backlash against allowing dogs to run free at the town's beach.